Applies to:  Super Admin
Control Template Management
This manages company account access to global control content that can be purchased at the time of company registration or at licence renewal/upgrade. 
It allows the full controls library (refer Controls Management) to be broken down into discrete templates that can be attached to a Content Module (i.e. a purchasable unit of content).
The main components on the header of this page are:
Domain

-

filter

s

to

 

control templates associated with

selected-

domain

Show Archived

- view control templates that have been archived

New Control Template

- create a new control template
The main components in the table are:
Template Name

- name of the control template which must be unique

Domain

- domain that the control template is associated with

Status

-  In Progress, Published or Archived

Start Date

- date that the control template was created

Publish Date

- date that the control template was published

Actions

- actions that can be undertaken, including:

Resume (arrow) - continue editing an In Progress control template

View (magnifying glass) -  view a published control template

Edit (pencil) - change the name of the control template

Archive (white filing box) - archive control template so can no longer be used in a content module

Unarchive (filled filing box) - unarchive control template so can be used in a content module (i.e. status goes back to Published)
Creating a New Control Template
After clicking the  New Document Template button the following pop-up appears:
Domain

- link the control template to the risk domain

Name

- provide the control template a unique name

Start From

- either select new (which will start from an empty template) or select a previous control template that will be used as a starting point for the new template

Show Archived

: show/hide archived control templates in the start from list
Click on Create to open the Control Template Management page to build the control template. This page will be blank if starting from New or pre-populated if starting from a previous template.
Add/Remove controls (from the full library) that should be included in this particular control template using the Select Controls button.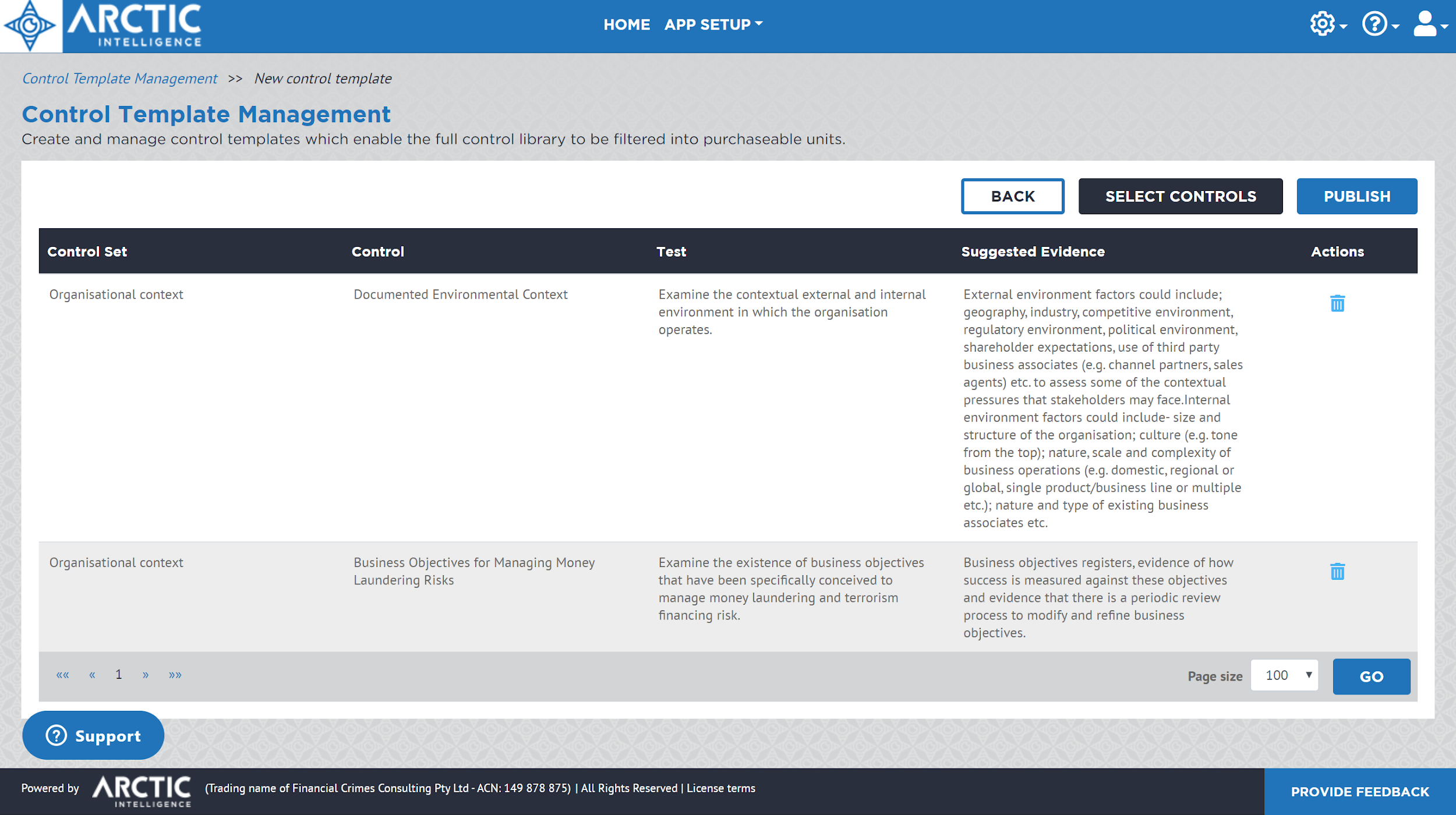 Once the template is complete then Publish it so it can be used in a Content Module.