1. Overview
The Account Profile icon is on the far right of the menu bar and contains the following information/settings:
User Name
Company Name
AMLA ID
License Type (i.e. Individual vs. Enterprise)
License Edition (i.e. Standard vs. Adviser)
Change Password
Preferences
Building Brand Trust
Signout
2. Change Password
If you are having trouble accessing your AML Accelerate account, we suggest that you first try resetting your password which can be done by clicking the "person" icon on the far right-hand side of the menu bar which will give you some options including to Change Password.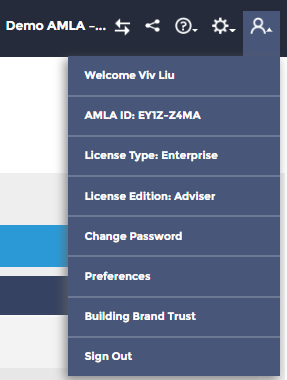 Type in the current password and new password noting the Password Strength indicator.
Once the password has been reset the following pop-up will appear, click Proceed to sign in to the application.
Didn't work?
If you don't receive the reset password email, check your spam/junk filters.
3. Preferences
In the preferences tab, you can manage your preferences to country and timezone.
4. Building Brand Trust
AML Accelerate customers can demonstrate their commitment to preventing money laundering and terrorism financing by displaying our kitemark, symbolising that your organisation has chosen to undertake a robust ML/TF risk assessment process and has adopted a comprehensive AML/CFT Program.
For more information on this visit our website Here.